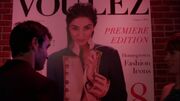 This is the American version of the famous magazine
Voulez
by
Pascal LeMarchal
. This version is led by Pascal's daughter
Margaux
and
Daniel Grayson
. The first installment was released in August 2013, with a
party
where Pascal was invited but refused to come because he didn't like the version. Though the ultimate fate of Voulez is unrevealed, it is likely that it fell apart since both potential known heirs ended up being incarcerated.
Former Workers
Edit
Installments
Edit
The First Installment
Edit
Here began the discussions between Margaux and Daniel. Margaux wanted Nolan to be their first cover and Daniel didn't. Finally Nolan didn't appear. The first cover of Voulez featured a woman in a George Washington inspired outfit; this was a nod to George Magazine, which featured Cindy Crawford on the cover of its first issue dressed as George Washington. George Magazine was run by John Kennedy, the son of former US President John F. Kennedy.
Daniel and Emily's Wedding
Edit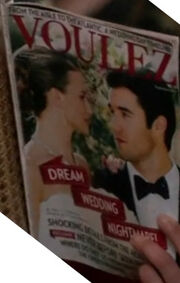 Voulez is about to cover the news of Emily and Daniel's wedding. Conrad tried to put an article talking about him but Margaux decided to make a book.
Daniel insited Margaux to write about Lydia as the shooter and she accepted but Jack told her not to do it as Daniel was the shooter and was trying to cover it up. Finally it doesn't matter as Conrad bribed Margaux's assitant to give him the magazine and changed this content;
| | | |
| --- | --- | --- |
| " | Aware of the bad blood between Thorne and Lydia Davis, Conrad Grayson took the pre-meditated step of buying his mistress a handgun and welcoming her abroad the honeymoon yacht | " |
After that he sued the magazine for libel and Margaux had to fire Daniel to save the magazine.
Headquarters
Edit
The Voulez headquarters are located in South Hampton. It was first meant to be in New York City but it caused tensions in Daniel's family because they didn't want him to work far from his home. So Daniel proposed Margaux to set the headquarters in South Hampton to be close to his family.
Ad blocker interference detected!
Wikia is a free-to-use site that makes money from advertising. We have a modified experience for viewers using ad blockers

Wikia is not accessible if you've made further modifications. Remove the custom ad blocker rule(s) and the page will load as expected.