Victoria and Frank

General Information
First Met:
Pre-Pilot
Intimacy Level:
Kissed
Status:
Former Boss and Employee
Relation:
Work Relationship
"
I'm going to redeem myself with you Victoria or I'm going to die trying.
"
Victoria and Frank used to be former boss and employee until Victoria discovered that Frank tried to kill Lydia, then she fired him. Once he lost his job, he tried to get it back by trying to win Victoria's affection and by trying to expose Emily Thorne.
Biography
Edit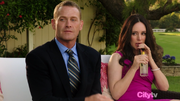 In "
Trust
" Victoria asked Frank to investigate Emily. He told her that Emily was a normal girl and that if she wanted to know anything about her she should ask her directly, and she did. After it Frank showed Victoria that Emily was in the same society that Michael, Lydia's husband was, implying that she was Michael's lover.
Ad blocker interference detected!
Wikia is a free-to-use site that makes money from advertising. We have a modified experience for viewers using ad blockers

Wikia is not accessible if you've made further modifications. Remove the custom ad blocker rule(s) and the page will load as expected.