Victoria and Conrad

General Information
Nickname(s):
ConVict
First Met:
Around 1984-1985
Intimacy Level:
Married / Divorced / Sexual
Dating History:
Met and married prior to series
Divorced in Chaos
Married again in Illusion
Divorced again in Payback
Status:
Divorced
Relation:
Romantic
Victoria and Conrad Grayson are former husband and wife. They married for the first time because Conrad tought that Victoria was pregnant. During their first marriage they had Daniel and Charlotte but Conrad didn't know that the baby was David's. They divorced when Victoria discovered his infidelity, married again to protect each other and divorced again.
Biography
Edit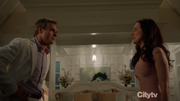 In "Pilot" Victoria discovered that Conrad was having an affair with her best friend, Lydia. Then Victoria banished Lydia from the Hamptons.
Ad blocker interference detected!
Wikia is a free-to-use site that makes money from advertising. We have a modified experience for viewers using ad blockers

Wikia is not accessible if you've made further modifications. Remove the custom ad blocker rule(s) and the page will load as expected.