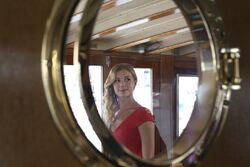 Overall, I thought the premiere was a great start that left viewers wanting more, guessing as to what may come next, with plenty of eye candy and humor as well. The show at its best.
A few things of note from the episode:
Clam cam!
Do we get to see Emily's mother "present day?" Will Jennifer Jason Leigh appear only through flashback, as James Tupper did last season?
Expect to see more of NolCorp...
Don't you just hate re-casts? I Love Cary-Hiroyuki Tagawa, but Hiroyuki Sanada was doing a good job, and established the character. Tagawa has some big shoes to fill!

What was your take on the season premiere? Comment below to share your thoughts!
How were you left feeling after the premiere?
Ad blocker interference detected!
Wikia is a free-to-use site that makes money from advertising. We have a modified experience for viewers using ad blockers

Wikia is not accessible if you've made further modifications. Remove the custom ad blocker rule(s) and the page will load as expected.