Home
Talk

0
585pages on
this wiki
Welcome to the Revenge ABC Wiki
...a collaborative website for the ABC drama Revenge

March 8 2015 22:00:00 EDT until Bait.
---

"REVENGE is universal. As primal as the need for love, sex, or the feeding of a searing hunger. Revenge crosses time and culture. It starts unwinnable wars and visits generations of blood feuds on families with unsettled scores. Revenge is as old as humanity. Dark and dramatic and endless." - - Mike Kelley, Creator of REVENGE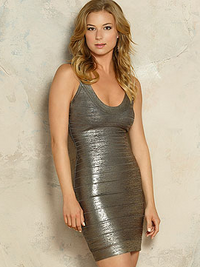 Wealth, beauty and status define the people in this town, but one woman is willing to destroy everyone for the sake of revenge.

Emily Thorne (Emily Van Camp) is new to the Hamptons. She's met some of her wealthy neighbors, has made a few new friends and seemingly blends into the town. But something is a little odd about a young girl living in a wealthy town all on her own, and the truth is that Emily isn't exactly new to the neighborhood. In fact, this was once her old neighborhood, until something bad happened that ruined her family and their reputation. Now Emily is back, and she's returned to right some of those wrongs in the best way she knows how – with a vengeance. Read more...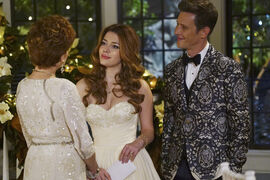 Next Episode: "Bait"
Previous Episode: "Kindred"
Memorial Day Party 2011
This annual party celebrated on a boat is the first of Emily Thorne in The Hamptons. Ashley Davenport, the organizer, was the one who invited her. She was also the one who introduced her to Victoria Grayson...

What did you think of this weeks episode, Atonement?
Do you want to see a Conrad 2.0?






"
I was in need my whole life. You were alive while the person that you thought was your daughter suffered... While I suffered... And you did nothing. Why?.
"


In last poll we asked:
What did you think of Impetus?


105 said Loved it (89.74%)
4 said It was good (3.42%)
2 said Could have done better (1.71%)
0 said Okay
3 said it was bad (2.56%)
2 said Hated it (1.71%)
1 said Don't care (0.85%)
0 said Don't know

All in all 86 people voted

For suggestions and to see the results please visit the page Poll Results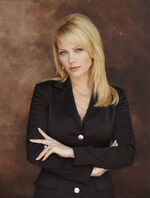 Gail O'Grady(born January 23 1963) is an American actress and producer, best known for her roles on television as Donna Abandando...


Create blog post
Blogs
Guys, does anyone have an e-mail or some kind of way to contact the producers, so we can express our feelings and share with them our thoughts about series??

Read more >

In this first mid-season we've seen Emily struggling with her past: she has discovered that her father had been alive all this time, and her true identity has been revealed to nearly every Hamptonite. The appearance of his father has brought anythin…

Read more >
See more >