Jack and Declan

General Information
First Met:
Pre-Pilot
Status:
Half-Brothers, Love each other Jack tried to kill Conrad for Declan's death
Relation:
Family
Jack and Declan were paternal half-brothers. They've always had a good relationship, they've always helped each other even when Declan had to break up with Charlotte to protect Jack. They have always thought that they were full brothers until after Declan's death, Jack discovered that his biological mother was Stevie Grayson, making those two half-brothers.
Biography
Edit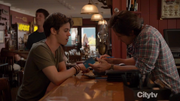 In "
Pilot
", Declan and Jack prepeared everything for Jack's travel to Haiti which meant that Declan would have to have a larger part in the Stowaway, so Jack began teaching the things he would have to do, like using the credit card terminal.
In "
Trust
", Declan asked Jack if he could borrow
The Amanda
and he agreed. But when Declan planned to go on a sail with Charlotte he discovered that the boat was missing and confronted Jack. Jack told him that he had selled the boat because their father was broke.
In "Truth, Part 2", Declan dies and leaves Jack a message, saying that he knows Jack will be a great father because Jack has been one to him as well. After learning that Declan has died, Jack snaps completely and tries to kill Conrad. He is only stopped when Emily tells him that she is Amanda Clarke.
In the series finale, Jack says that Declan inspired him to be the best man he can be.
Ad blocker interference detected!
Wikia is a free-to-use site that makes money from advertising. We have a modified experience for viewers using ad blockers

Wikia is not accessible if you've made further modifications. Remove the custom ad blocker rule(s) and the page will load as expected.