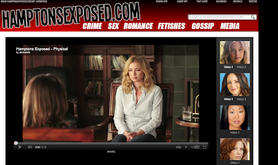 Hamptons Exposed
was a website set up by
Emily Thorne
and
Nolan Ross
, which exposed the lives and intimate secrets of The Hampton's Socialites. The website used recordings made by
Dr. Michelle Banks
who had, unbeknownst to her patients, recorded their private sessions. After being publically humiliated by the video,
Victoria Grayson
confronts Michelle and tells her that she will ruin her.
Exposed Socialites
Edit
Emily Thorne- Emily had two videos on the site, one explaining how she found it hard to get physical with anyone, and another which told of her fear of letting people get too close.
Victoria Grayson- Victoria also had two videos on the site. One told of her regrets of having a second child and the other explained her love for David Clarke and being unable to stop thinking of the past.
Unnamed Blonde Woman- One of the videos on the website showed a blonde haired woman, a member of Victoria's inner circle, who admitted to cheating on her husband with his sister. The clip was shown in "Duplicity", and is available on the real life website by clicking on the "SEX" tab.
Unnamed Red Haired Woman- Another video revealed a red haired woman who drove her children to summer camp loaded on painkillers and vodka.
Unnamed Asian Woman- The final video revealed that this woman has an addiction to shoplifting, admitting that "paying for designer couture isn't as half as fun as..shoplifting it". The clip wasn't shown in "Duplicity", but is available on the real life website.
In Real Life
Edit
The website can be found in real life (link below) and contains most of the clips shown in Duplicity
Ad blocker interference detected!
Wikia is a free-to-use site that makes money from advertising. We have a modified experience for viewers using ad blockers

Wikia is not accessible if you've made further modifications. Remove the custom ad blocker rule(s) and the page will load as expected.