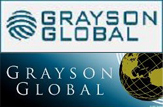 Grayson Global is hedge fund company and major investment firm, originally founded by Edward Grayson (who remained as Chairman of it's Board of Directors), and later headed by his son Conrad Grayson, and after him Daniel Grayson. Under Conrad's leadership, the Grayson company's business went world-wide, thou secretly, Conrad had found out about a private group of business people, dubbed a terrorist group to the public known as "Americon Initiative", who perfected the art of engineering certain disasters and acts of terror on the general population of the United States, and then profiting (via. wealth, political capital, business opportunities etc.) greatly in the aftermath. Daniel later replaced his father after gaining the support and approval of the Executive Board.
NolCorp, the technology company founded and headed by Nolan Ross, was originally an undeclared Grayson Global subsidiary (as it had been started with funds provided by David Clarke, while he was still an executive at Global), although a majority stake in NolCorp was later given to Global. Nolan was implicated by the Initiative as an Initiative member responsible for masterminding the Manhattan Blackout and Grayson Global Bombing, and he was arrested for treason against the United States. A few months later, however, a failsafe he installed in Carrion, the program used by the Initiative to cause the blackout, which had been originally created and the stolen by Ross, exonerated him and exposed the remaining Initiative members. NolCorp, however, is mentioned as having "gone the way of the flip-phone" as a result of the bad publicity from the attacks, and Daniel himself has left the company to focus on his engagement to Emily Thorne.
Grayson Global's current operations and status are unknown, though Daniel once implied to Margaux LeMarchal that Grayson Global was brought down with NolCorp.
Current Employees
Edit
Former Employees
Edit
Ad blocker interference detected!
Wikia is a free-to-use site that makes money from advertising. We have a modified experience for viewers using ad blockers

Wikia is not accessible if you've made further modifications. Remove the custom ad blocker rule(s) and the page will load as expected.