Emily Thorne
Talk

0
466pages on
this wiki
This article is about the show's protagonist who uses the name Emily Thorne. You may be looking for the real Emily, who in turn goes by the name Amanda Clarke. If so, go here.
"
Have the wedding of the century. Take down Victoria, once.. and for all.
"
Emily Rebecca Thorne (born Amanda Clarke) was the daughter of the Clarke family, living in the Hamptons in 1992. Because her father was framed for a crime he didn't commit, she is on a quest for revenge against the Graysons, the actual criminals in the case.
Biography
Early Life
In this section, "Emily Thorne" will be referred to as Amanda Clarke, her real name
Childhood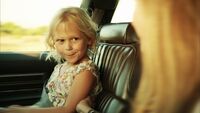 Amanda Clarke was born some time in Summer of 1986 to the late David Clarke and Kara Wallace.
For most of her remembered childhood, she was led to believe that her mother had died in 1989, when she was 5 years old, in a car crash and she had been raised by her father since. It turns out, though, that Kara had tried to drown with Amanda in the ocean one time, prompting David to finally send Kara away and into the Angel of Mercy Hospital.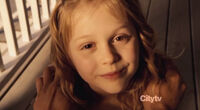 One summer, her father decided to get a beach house at the Hamptons for their summer vacations. The Hamptons is where their life began changing. Here, David Clarke meets his boss Conrad Grayson's wife Victoria Grayson, who Amanda had seen more than once come and go from their house as her father's secret lover. She also becomes close with Bill Harmon, a friend of her father.
One fateful night, Amanda was about to play with her dog, Sammy, when FBI agents came busting into their house and arrested her father for money-laundering for the terrorist organization, Americon Initiative. She sees one last glimpse of the Grayson couple who had him arrested before they took her away from her father. She was then placed in institutional care by order of Michelle Banks, her psychiatrist who had been bribed by Victoria to make sure Amanda never saw her father again.
She then went into foster care, where she met Eli James, Nathan Anderson and Christina Miller. Under their abusive foster mother, Meredith Hayward, Amanda and Eli became close foster siblings, protecting and sticking with each other. During her time there, Amanda developed the habit of playing with matches. At one point, Amanda was chosen by a family for adoption. Not wanting to be separated from her, Eli burned their house down with one of Amanda's matches. Blamed for starting the fire, Amanda was sent to juvenile detention for five years.
Juvie Days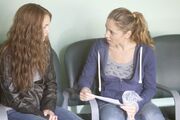 By age sixteen she was in Allenwood, a maximum security juvenile facility run by Warden Sharon Stiles. Here, she meets Emily Thorne, her roommate. At first, the two are very hostile towards one another but, upon Warden Stiles' advice, eventually Amanda decides to befriend Emily into confiding in and trusting her.
Before leaving, Amanda had given Emily a necklace, and she promised she'd be back for her. Emily gave Amanda a hug, and said "I love you", showing she truly loved her cell mate and saw her more like a sister.
While in Allenwood, Warden Stiles had looked after and taught Amanda. A few years later, when she is released from the center, Amanda promises Emily that she will come back for her. Also, Warden Stiles gives her a note with Satoshi Takeda's number, saying that although she is giving her this information, she hopes she does not go through that path.
Path to Revenge
Upon being released on her eighteenth birthday, Nolan Ross, a friend of her father's, met Amanda and tried to let her see the truth: that her father was innocent. He gave her the infinity box that her father had left for her. At first, Amanda was insistent on not believing and used the money she got from her inherited partial ownership of Nolan's company, NolCorp, for her own, personal, useless gains but, eventually, went back to the Hamptons to stay at their old summer home, currently decommissioned and under Conrad Grayson's ownership. There, she began reading her father's journals and began realizing the truth. After waitressing for a 2002 New Year's Eve party of the Graysons at their mansion, she became more aware of the evils of the family and their involvement in the framing of her father when she finds the dead body of Roger Halsted, a friend of her father's that she approached at the party and who planned to aid her. At that point, all the hurt and anger built up in her came out and awakening the desire for revenge against those who betrayed her father.
However, she knew that she could not get close enough to her goals as Amanda Clarke. Her relationship with Emily later proved very useful when Amanda came back for her and offered her  money along with a change of identity. They exchanged names and lives: Emily became the new Amanda Clarke, and Amanda became Emily Thorne. ("Suspicion") Under the guidance of her sensei, Satoshi Takeda (who himself had a secret grudge against the Graysons), she learned the ways of revenge on an island in Japan.
Rise for Reputation
Work in progress. Has to do with her school activities and charity work before going to the Hamptons. Includes her meeting Ashley.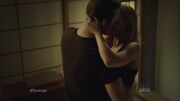 One night around Thanksgiving of 2006, on a mission to bring down Dmitri Lvovsky, Emily met Aiden Mathis, who ended up killing Dmitri after he taunted him about his vanished sister. Realizing that he needed revenge just as much as she does, she convinced Takeda to take him in, threatening to leave if he didn't accept him. During the mission, Emily had a brief encounter with Ashley Davenport, who at the time had just moved to New York and was about to resort to prostitution to pay the bills. Neither apparently saw each other's faces clearly enough to get a lasting impression. Speaking to her through a door, Emily gave her a bundle of dollar bills in exchange for a information about when Dmitri was arriving.
While in training together Emily and Aiden developed a relationship that was interrupted when Aiden left to pursue a lead to his sister.
Revenge School
There still is a lot about Emily's years spent training under Takeda that remains unknown, but it is revealed during "Trust" that she created a fake history on top of her assumed identity of "Emily Thorne" which stated that she was the daughter of a wealthy American expatriot who left behind a sizable inheritance which she used to travel the world and get academic degrees.
In the upcoming novel named, "Schooled in Revenge", It Is revealed they were several other students training on the Island. So far, it is said Emily will bond with a Girl named Ava Winters, described as a 'beautiful young heiress', who has just joined her training school. Other students include Jon West, a 'handsome but guarded man', also new to training, Reena Fuller and Cruz, 'a feisty young woman and the guy who will do anything to protect her' and also another student yet to be revealed, 'a girl who has no memory or idea of who she is or why she's on Rebun.'
Seasons
Summer of 2011, many years after she spent her last summer in the Hamptons with her father, Amanda Clarke now known as Emily Thorne returns to the Hamptons for the summer. She's back to take revenge on the people who sent her father, David Clarke, to prison. She is back to the Hamptons but also in her old beach house, which is now owned by Michael Davis and Lydia, former secretary of David Clarke at Grayson Global.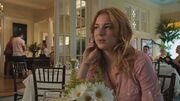 Shortly after arriving, she crosses paths with part owner of the house, Lydia, who is still battling her husband for the rights to the house. Later, while at the South Fork Inn, she sees Lydia and Conrad Grayson enter separately. In disguise, she posed as a member of the staff, Emily enters their room and, after confirming that they were together, she slipped something into Conrad's room service that mimicked the symptoms of a heart-attackshe. As Lydia watches Conrad being loaded into an ambulance, Emily innocently asks her if he is her husband, and Lydia runs off. Later, she indirectly, but intentionally, tells Lydia off on her affair with Conrad to Victoria Grayson, thus destroying their friendship, forcing Lydia to leave the Hamptons for good. Emily wanted to expose Conrad's affair with Lydia Davis as a way to take out one of her enemies, since Lydia and the Graysons were conspirators in the framing of David Clarke. With this, the beach house is put on the market, and Emily auctions for it.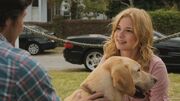 That day, she also meets the two men that will affect her stay at the Hamptons, both not for the first time. She sees
Jack Porter
, her childhood friend who still misses Amanda Clarke, with her old dog Sammy, who recognizes her. (Sammy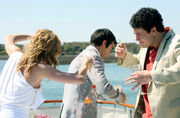 comes running up to Emily.) At the
Memorial Day party
, Emily spied
Daniel Grayson
, the handsome son of Victoria. To get his attention, she "accidentally" spills her drink on him, the Grayson son who obviously smitten by her.

Unbeknownst to her, one particular guest at the party recognized her: Nolan Ross. Nolan immediately gets on Emily's bad side when he saunters into her home calling her Amanda. He knows her because her dad invested in him before he became super rich. Emily owns 49 percent of Nolan's company. Nolan gives her a special memory box, Infinity Box that provides the truth behind the evil things others have said her father did.
From this point on, Emily becomes intent on getting closer to the Grayson family through their son, Daniel. She begins leading him on with the possibility of a relationship which soon makes Victoria wary. She has Emily investigated and, fortunately for her, Emily had thought all of these through and has everything covered.
Emily manipulated virtually everyone in Hampton in her quest for revenge and only Nolan and the real Emily Thorne (known in the Hamptons as Amanda Clarke) currently knows her true identity. She pretended to befriend the Graysons but has not directly attempted to take revenge on the family so far, biding her time until she found the evidence she needed to clear her fathers name. However she has taken revenge on many of the Grayson's allies, including: Bill Harmon, Tom Kingsly, Michelle Banks and Mason Treadwell.
Emily has never actually killed anyone, although she did show particular interest in the man who killed her father, Gordon Murphy and he is the only character that she actually tried to kill. However she controlled herself at the last moment due to Nolan and the memories of her father.
After Emily found out that her mother, Kara was alive all her energy went to finding out where she is, who and what kept her away from her daughter. Her first move was to go back to Japan and train under Takeda with the goal to unlock her memories about her mom. But this, she kept it for herself, Takeda didn't know that was the purpose of Emily's return and once he found it out he clarly said to Emily that if he knew that was her intention he wouldn't welcomed her back to the training. But Emily made it clear by stating that dead or alive, she is goning to find out what happened to her mother and when she does it, god help the people who kept them apart.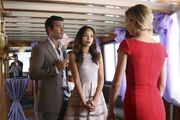 To find out more about her mother she has to go back to the Hamptons, she needs to get close to the Graysons again to find out more info. This time to do so Emily gets more close to Charlotte, her half-sister, who has been living sober for the past 60 days at an addiction recovery center. Once back in the Hamptons, she also has to run back into both Daniel, whom she broke up with and Jack, now with pregnant Amanda. She has to deal with Amanda, who is getting way too comfortable in the Hamptons, so Emily pays her a visit but Amanda made it clear that she isn't going anywhere, during that encounter it was also decided that Emily was to be the godmother of Amanda's and Jack's child. Emily needs to stay close to these two as well, that's why she tells Jack that Amanda asked her to be the baby's godmother.
(...)
Emily decided to confront both Gordon Murphy (the white-haired man) and Victoria. When she asked Gordon Murphy about her mom, he told her that she was alive, that he didn't kill her but once that was said he tried to kill Emily. She is saved by Aiden, who shoots Murphy in the back.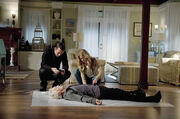 (...)
Through Amanda, Emily confronted Victoria too but wasn't able to hear what Vicotria said about Kara to Amanda. It is only at the hospital that Emily unlocked her memories of her mother, by seeing her beside Amanda's hospital bed. Emily remembered that Kara tried to kill her when she was only 5 years old, by drowning her in the ocean when they were swimming together.
(...)
In Retribution, Jack finds letters sent between Emily and Amanda during their juvie days and, angered that Emily didn't reveal their earlier connection, breaks off with her. Emily then delivers the eulogy at Amanda's funeral. Meanwhile, Aiden breaks into Jack's room and takes back the laptop with video footage proving the Graysons' guilt in Flight 197 and the framing of David Clarke. When he returns it to Emily, she throws it in the ocean, remarking that her revenge plan for the Graysons was never going to involve jail time.
(...)
Throughout Masquerade, Emily and Aiden begin a series of ploys to get Victoria to start looking for her son again. First they send her a responded invitation to the Graysons' Halloween party in an envelope postmarked 1973, the year her son was born. Because Conrad's opponent in the gubernatorial race, Mark Stoddard, got his first public office job that same year, he incorrectly assumes it to be some kind of poor prank by him. Victoria later receives a bunch of black roses, one of which has had its bud cut off, and a note saying he (her son) will wear it at the party. Upon seeing a masked man wearing the rosebud at the party, Victoria tries to follow him but loses him in the crowd and then faints, apparently from shock (the man is implied to be an actor hired by Emily). In the end of the episode, Emily apparently tails Victoria to the church where she left her first-born son decades earlier. After Victoria leaves, Emily approaches the nun she spoke to and asks for help, claiming to be pregnant.
(...)
In the end of "Truth, Part 2", Emily intervenes as Jack is about to shoot and kill Conrad and reveals herself to be Amanda Clarke, ending the season with a cliffhanger.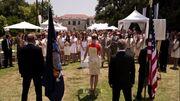 In Fear Emily went to jail to pick up Nolan "returning" him the favor. She went to The Stowaway to see Jack but she finded Ashley who blackmailed her by saying that she knew which were her true feelings about Jack. She decided that it was time to take her down. She poisoned Conrad in the Memorial Day Party, the first organized by her and made the Graysons believe that Ashley leaked the diagnostic to the press when she was the one who did it. Ashley was forced to return to her birthplace. Forced by Daniel to pick up a date for the Wedding, and after Jack gave her an ultimatum to finish her plans by the end of the summer she choose to have it on August 8th.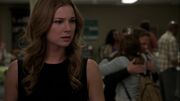 In
Sin
Emily gave the
Infinity Box
to Nolan to keep it safe. She showed him her new target, Father Paul Whitley, the one who conviced everybody to stand against David Clarke. She discovered that he had change but continued wanting to take him down. Just when it was too late she regret it and tried to stop it but she couldn't. She told Nolan that she will try to fix it because Father Paul is the only who could make Conrad confess everything. She continued poisoning Conrad, and losing Charlotte for revealing the "affair" of Victoria.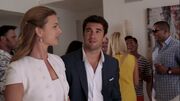 In
Confession
she offered her forgiveness to Father Paul but he had to make Conrad confess. Daniel begin to ask her questions about Nolan's house and Aiden boosted by Victoria. She begin to get closer to Conrad as nobody of his family were. At the end of
Nolan Ross' Housewarming Bash
she revealed to everybody that the Graysons were in bankrupt. When she was in the beach Aiden appeared and we discover that he has been working for Emily all this time. When she was returning home she found Conrad's car set on fire, Father Paul hurt badly and Conrad bleeding and confused.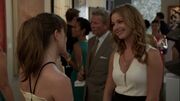 In
Mercy
Emily saw her plan fall off when Father Paul died. She saw Daniel bribing the police after he gave him Emily's statement of the case, she avenged it when she told
everything
about Daniel for his biography introducing him for the readers of
Voulez
. She told Jack that Conrad killed Father Paul and that he never planned to confess, then they investigate the car and Jack discovered that somebody tamped the breaks of the car. Daniel and Emily's relationships became tense when Daniel discovered what she had done.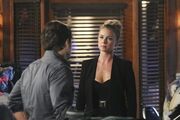 In
Control
Emily sneaks in Conrad's to averiguate who has tried to kill Conrad but Aiden told her that he would do it. Then Victoria told her that Conrad thought that Jack was behind everything and she went to advise him, as Victoria planned. When she arrived late at the Launching of the Voulez Daniel got angry and to get him back she had to show him a photo of Amanda's parents that she kept in
The Stowaway
.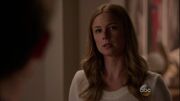 In
Dissolution
she saw her plan collapse in front of her when Conrad announced that he was sailing the Manor. So she made believe the estate agent that the manor was slipping into the sea and changed the manor's file so she canceled the sale. Aiden told her that Victoria was planning to leave so she told Aiden to show Victoria her fortune. She discovered that Jack allied with Conrad to kick out Patrick and she revealed that in August 8th she was planning to frame Victoria for her death and leave for good with Aiden.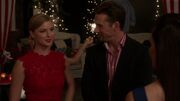 In
Resurgence
Emily found herself in problems when Conrad's PR tried to make that Emily and Victoria to get along, and if she succeed she could not frame her for her death. So she talked with Nolan and he decided to take her down. So for the plan she told Bizzy that she had been married before and Bizzy told it to Victoria. Then Nolan told her that her fiancee was about to kiss Sara.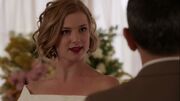 In
Secrecy
Emily has a new enemy,
Sara Munello
but she doesn't takedown her, she broke down in front of her instead. And it worked as Sara felt guilty for what she was doing. But it didn't ended here because
Victoria
had a surprise for her in
her bridal shower
she had called Rohan, his first husband. But Emily had it planned and she and Rohan humiliated Victoria explaining that Emily married him to avoid his deportation. With this they demostrated to everybody how obsesful Victoria was with the wedding, here we have the motive of the crime. Then after knowing that Daniel was cheating on her she told him that she was pregnant.
Amanda Clarke
There are a few characters that know Amanda's true identity, some being people she knew and her former allies.
These are:
Personality
As a child, Amanda Clarke was a carefree and loving daughter to David Clarke. She was close friends with Jack Porter and Jack described her as being a "childhood crush". Until her father's arrest, Amanda had a very happy childhood, despite the fact that she didn't have a mother.
During her time in the juvenile facility, Amanda grew into an aggressive teenager who often got into fights. She had a good relationship with the warden, who sympathised with her and helped her realise that she needed to stop getting into fights and instead focus on getting revenge on the people who were responsible for her being there in the first place. Amanda befriended Emily Thorne and eventually they swapped names and Amanda later told Nolan that Amanda Clarke no longer existed, although clearly she did still exist due to the existance of the real Emily Thorne.
Emily was very beautiful and charming, being capable of using her beauty to get wherever she wanted to be. The only person who was immune to her charms was Victoria Grayson, who never entirely trusted her. However Emily was also very manipulative and even had a slightly sadistic streak, enjoying watching her victims squirm. She was cold, calculating and highly intelligent. Nolan told her that she could be scary at times. Emily was willing to take down anyone who got in her way, including Nolan and Daniel Grayson. She was extremely dangerous when angered, partially due to her skill in martial arts and partially because she could hold grudges for a very long time. However Emily has never actually killed anyone and even managed to stop herself from killing the man who murdered her father, although she was extremely tempted to finish him off.
As the series continued, Emily occassionally showed a softer side, feeling hurt when Nolan told her that her father would be ashamed of her and appologizing to him later. Although she generally pushed other people away, rarely forming a close relationship with anyone, she was loyal to people she genuinely cared about, rescuing Nolan from the man who stabbed her father, and trying to keep her half sister, Charlotte Grayson out of her revenge schemes against the rest of the Grayson's.
It is interesting to note that Emily's personality was very similar to Victoria Grayson's personality, showing that she was more like her enemy than she has ever realised. The only big difference in their personalities was that Emily was loyal to her loved ones.
In 'Secrecy' Jack said that even as a child, Emily was secretive because she was afraid to let people in. Thus hinting that the sort of lying, mistrust and self-protective tendencies were always part of Emily's personality, but after she lost her father and Jack, this was magnified because of her fear to get hurt. Jack uses the wishing upon a shooting star as young Emily never told him what she wished for. To contrast and show her growth Emily tells Jack she wished "nothing would change". But as we know it did, so this may be another reason why she lacks hope and shut out her emotions, because she lost it all when she hoped it would stay the same.
In season 3 Emily's personality is increasingly becoming more open to particular people, and she listens to Nolan's and Jack's opinions more.
Relationships
Romance
Daniel Grayson
For more details, see their main relationship page
Emily is Daniel's on-and-off lover. Initially, Emily involved herself with Daniel to get to the Graysons, and it seems that, even momentarily, Emily cared for Daniel. The pair got engaged at one point, but ended after Ashley told Daniel that she saw Emily kissing Jack.
A year after their separation, Emily and Daniel are back together. This time, Daniel is determined to keep Emily around, being more honest and straight-forward with her, even to the point of telling her about the Initiative.
Jack Porter
For more details, see their main relationship page
Jack is Emily's childhood friend and her one true ally and love from the Hamptons. Neither have really gotten over their separation, and Emily is shown to still hold a torch for Jack. Jack, not recognizing Emily as his friend Amanda immediately did eventually develop feelings for her. Jack tried to admit this to her, but she refused him as it would distract her from her plans, particularly with Daniel.
When Jack met the fake Amanda Clarke, they started a relationship, but Jack still had feelings for Emily. This becomes evident when, after Sammy dies, Jack kisses Emily. The pair would have been together if not for the revelation that faux-Amanda was pregnant with Jack's child.
Aiden Mathis
For more details, see their main relationship page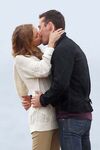 Aiden was Emily's lover from their time at Japan with their revenge sensei, Takeda. Aiden left her to look for his sister, but not before leading her to believe that he was taking her with him. Aiden is one of the people that made Emily become very distrustful of people.
Years later, they are back in Japan and Aiden is insistent on proving himself to Emily, wanting her to trust him again. Emily is skeptical to trust him at first but eventually does, realizing that Aiden is one of the few people she can really trust. Aiden partly betrays her again, however, when Aiden decides to move on his own to try and take Emily from her path of revenge, beginning with killing Takeda and bankrupting the Graysons, mostly driven by jealousy with her fake relationship with Daniel.
David Clarke
For more details, see their main relationship page
David and Amanda had a very good relationship. David made it very clear to Amanda that he loved her very much, even taking her away from her mentally ill mother. When David is framed by Americon Initiative, Emily is sent into a hard life under the foster care system. She has since then held a grudge at her father after being lead to believe by all the people involved in the conspiracy that her father really is a terrorist.
Years later, though, Emily learns the truth from Nolan Ross and receives the Infinity Box. Realizing that her father was wronged, Emily goes down the path of revenge to avenge her beloved father.
Charlotte Grayson
For more details, see their main relationship page
Charlotte is Emily's younger half-sister, although Charlotte does not know that Emily is her real sister, believing that it is in fact Amanda Clarke. Emily decided to adjust her revenge scheme upon this revelation, deciding to not directly involve Charlotte so she can protect Charlotte and take her from Victoria at the same time.
Charlotte is considerably close to Emily, trusting her at a certain degree. Before the fake Amanda came into the picture, she saw Emily as her new sister since she was engaged to her brother, Daniel. Emily also tends to worry about Charlotte a lot.
Nolan Ross
For more details, see their main relationship page
Nolan Ross aids Emily in her quest for revenge more or less loyally since he still feels indebted to her father. He mostly offers his intellectual and financial services, although sometimes Nolan is required to do some form of dirty work as well. Initially, Emily found Nolan annoying and troublesome, but eventually, Emily acknowledged that Nolan has helped her immensely and that he is a true friend.
While Nolan still is very loyal to Emily, it has been alluded to more than once than his loyalty to her father comes first. Nolan usually acts as Emily's conscience and sometimes made her question her actions and stopped her from taking things too far.
Amanda Clarke
For more details, see their main relationship page
Amanda Clarke was the real Emily Thorne and was the woman that Emily had switched names with. Emily only befriended her in the beginning to use her to her advantage, although eventually she came to care for the broken girl. Amanda trusted Emily, seeing her as the only one who was there for her, saying Emily was the closest thing to a sister she'd ever had.
Their relationship was tested several times, particularly when Amanda realized that Emily was using her just as she used everybody. Amanda then went on to marry Jack, who Emily had feelings for for a long time. Eventually though, the two make amends, apologizing to each other and mending their relationship in the last minutes of Amanda's life.
Victoria Grayson
For more details, see their main relationship page
Out of all the Graysons, Victoria was the one that Emily hated the most, since she had been her father's lover before she betrayed him. Victoria never fully trusted Emily, although both remain civil to each other for Daniel's sake, who is caught between the two as Victoria sternly disapproves of her son's relationship with Emily.
Conrad Grayson
For more details, see their main relationship page
Emily also has a grudge against Conrad, seeing him as the man who tricked her father to unknowingly take the fall for the downing of Flight 197. Emily knows just how conniving Conrad Grayson is and has tried several times to ruin his career by using information she has gathered over the years. Unlike his wife, Conrad was charmed by Emily and trusted her and considers her a good mate for Daniel.
Events That Has Attended
Season 1
Season 2
Season 3
Memorable Quotes
The Graysons are, and always will be, the enemy.
Amanda Clarke no longer exists.
When everything you love has been stolen from you, sometimes all you have left is revenge.
[To Nolan] My father has not seen me in over 8 years. I have changed
I'd tell you how much time you had left but you stole my watch.
I came here for revenge. You offered to help me. If you can't stomach it anymore, how about you least spare me your passive-aggressive judgments?
Vodka tonic. Hold the tonic.
The better way to fight chaos, is with chaos.
[To Nolan] I googled friendship on the Interwebs, apparently when you have a fight with a friend you're supposed to apologize.
I will never forget. I will never forgive.
Let it play

Darkness scares us. We yearn for the comfort of light as it provides shape and form allowing us to recognize, to define what's before us. But what is it we're afraid of, really? Not the darkness itself, but the truth we know hides within.

Destiny. To believe that a life is meant for a single purpose, one must also believe in a common fate. Father to daughter, brother to sister, mother to child. Blood ties can be as unyielding as they are eternal. But it is our bonds of choice that truly light the road we travel. Love versus hatred. Loyalty against betrayal. A person's true destiny can only be revealed at the end of his journey, and the story I have to tell is far from over
.
Appearances
Trivia
Emily is the only character whose net worth is not given at the bios (it says only she knows).
Emily seems to be based on Lisbeth Salander from the best selling and popular trilogy the Millenium Trilogy as both are vigilantes who seek revenge on the ones who ruined and traumatized their childhood and both were declared legally insane and have - or in Emily's case had - black hair. (Although both former and latter cases this was not their natural hair color). Also, both have tattoos: Lisbeth has a dragon tattoo which was the name of Stieg Larsson's first novel in the trilogy, 'The Girl With The Dragon Tattoo', while Nolan has nicknamed Emily the 'little girl with the double infinity tattoo' because of her tattoo.
Amanda's alias Emily stems from her actress's first name Emily and the last name Thorne stems from the fact she transmuted from an innocent little girl to a cold cynical young lady who's hellbent on getting her long awaited revenge on everyone who wronged her and her father. In Charade the background story behind Emily's name change is explained as she and her former cellmate switched identities.
Ironically the name Amanda means she who is loved while the name Emily means rival. This can be coincidence from the fact that Amanda came from a single parent loving household to Emily who's an orphan who is Diabolic, but seems innocent in nature as her cover to let her get closer to her enemies.
Two out of three actresses who play Emily (Lind as 9 year old girl and VanCamp as a young woman) have the same first name as Emily, but they were both christened with the name unlike Amanda who legally changed her name.
Emily always has a backup plan and seems to know what people will do.
Emily's eye color is brown and her hair color is blonde. But when she was a teenager, as seen in Allenward flashbacks, Emily had silky black hair, even though flashbacks to her childhood shows her having blonde hair and its most likely she dyed it before going in.

After juvie was over her was light brown 6 months after her 18th birthday when she was let out

Emily has at least three cell phones she uses for different occasions: one for her new life as Emily Thorne, second cell phone for keeping in touch with her secret cooperatives and friends from when she was Amanda Clarke, and the last is for sending secret data to threaten enemies.
Emily liquidated her share in NolCorp years before the series start.
She's the godmother of Jack and Amanda's son, Carl David Porter.
Gallery
This gallery shows four pictures, randomly selected, related to the subject of this article.
A more complete gallery can be found here. Any future additions should be added there as well.
References
↑ Seen in a fake passport in "Truth, Part 1"