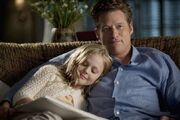 The Clarke Family is one of the main Families in Revenge.
Family Tree
Edit
This is The Clarke Family Tree contains all known members of this family.
Known Family Members
Edit
Relatives
Edit
In Destiny Emily revealed that Charlotte Clarke had Parkinson's disease before David Clarke was incarcerated.
Kara Wallace currently believes that Emily Porter is her daughter and Carl David Porter is her grandson.
Ad blocker interference detected!
Wikia is a free-to-use site that makes money from advertising. We have a modified experience for viewers using ad blockers

Wikia is not accessible if you've made further modifications. Remove the custom ad blocker rule(s) and the page will load as expected.