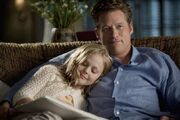 The Clarke Family is one of the main Families in Revenge.
Family Tree
This is The Clarke Family Tree contains all known members of this family.
Known Family Members
Relatives
Trivia
In Destiny Emily revealed that Charlotte Clarke had Parkinson's disease before David Clarke was incarcerated.
Kara Wallace currently believes that Emily Porter is her daughter and Carl David Porter is her grandson.
Gallery